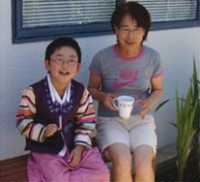 "It's really good to have a regular GP," says Jean Kim of Milford, "they know my family well and they're in touch regularly, especially when my son Hogun was younger to let us know of things such as immunisation and before school checks."
Jean, husband Sam and 10-year-old Hogun have been going to the same medical centre in Takapuna for nearly a decade.
"Even my 78-year-old father, who doesn't speak a lot of English, can communicate well with his doctor, simply because they've known each other for so long!"
It's good to be enrolled with a doctor you can trust, says Jean.
"The New Zealand health system can be confusing for many Korean immigrants when they first arrive in New Zealand. You don't know where to go to get tests, or how to get your child immunised.
"When you're enrolled, you have one doctor taking care of everything, from blood tests to regular health checks."