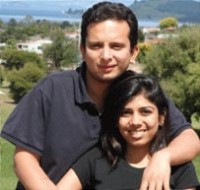 Married couple Mitesh Pankaj Parikh and Dolly Rajendrakumar Joshi have found the relationship with their regular doctor in New Zealand a pleasant one.
"Because it's so populated, doctors in India don't have much time to spend with their patients. They see so many patients that it's difficult for them to know each patient well," says Dolly, a physiotherapist by profession.
"In New Zealand, it's different. My local doctor knows me well and he knows of my prior conditions when I see him without my having to explain it to him. He's even providing me with guidance on getting my license to practice as a physiotherapist in New Zealand!"
Originally from Mumbai, qualified chef Mitesh first moved to New Zealand in 2005 while Dolly joined him in early 2011. Both are enrolled with the same doctor in their local suburb of Papatoetoe.
Dolly's advice to people still thinking about enrolling with a doctor is simple.
"Make it the first thing you do. I know enrolling may not seem important – especially if you've just migrated to New Zealand and are busy settling in – but it's important. You will never know when you will be sick or need to see a doctor.
"If you enrol when you are actually sick, you won't be able to get the benefits of enrolling straight away, so you will have to pay more to see the doctor. Make enrolment a first priority."