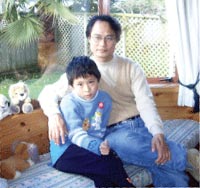 The Qin family of Avondale have experienced first hand the advantages of having a regular doctor. Originally from Guangzhou, China, the family have been seeing the same family doctor in Te Atatu for the past 15 years.
"When he was younger, my son Daniel used to be quite sick. I used to have to take him to our doctor quite regularly, so it was good that there was someone who knew my son's medical history, and how to treat my son's condition accordingly without having for me to explain everything to a different doctor each time," says mum Wanny Wu.
Daniel is 14 now, but Wanny also remembers their family doctor's practice getting in touch with her when Daniel (and his older sister Jenny) were younger to make them aware of things such as immunisation.
Dad Frank also had breathing difficulties, and their family doctor would arrange to have him undergo regular tests to make sure that there were no long term health issues.
This relationship that they have with their doctor is a novelty for the family.
"It's a different system to that in China – in China you look after yourself – but it's a good system they have in New Zealand. It's good having a regular doctor," says Wanny.
It did, however, require some getting used to. When Frank's mum Hui Fang joined the family in New Zealand seven years ago, she was anxious at the concern her doctor had shown for her blood pressure levels and an ongoing condition with her legs.
"Initially she was quite worried that the doctor kept asking her to go for these tests! But we explained the New Zealand system to her, and she understands now that doctors in New Zealand just want to make sure that their patients are better able to look after their own health."