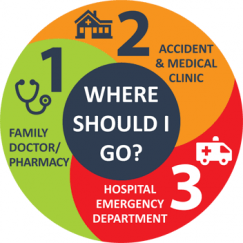 1. Family Doctor / Pharmacy
For urgent, less serious health concerns
Call or visit your family doctor (GP)

Get advice and treatment for common minor illness from your community pharmacist
2. Accident & Medical Clinic (Urgent Care Clinic)
For urgent, less serious health concerns when you can't see your family doctor or after hours
Call your family doctor to nd your closest Accident & Medical Clinic (Urgent Care Clinic)
3. Hopsital Emergency Department
Seriously unwell and need emergency care
Go to the hospital Emergency Department or call 111
---
Have you enrolled with your local family doctor (GP)?
Who can enrol?
You need to be eligible for publicly funded health services in New Zealand and entitled to enrol. For eligibility visit www.health.govt.nz/eligibility(external link).
Why should I enrol?
Benefits may include:
Cheaper fees when you see your local family doctor (GP) pay only $5 for each subsidised prescription item.
Access to free interpreter services, if required.
Reminders for checks, immunisations and other additional services.
Read more about why you should enrol.
What if I don't want to enrol?
Enrolment is completely voluntary. If you choose not to enrol, you will be charged higher fees for your doctor visits.
How do I enrol?
To enrol, simply contact your local family doctor (GP). Find a local family doctor (GP) in your area.